Does Cannabis Make You Horny? | PotGuide.com
Depending on whom you ask, combining marijuana and sex can result in mind-blowing orgasms or flaccid mishaps and arid experiences. With mixed results in the lab and the cannabis community, one has to wonder if combining two of their favorite experiences is the correct way to go about it or not. Should you smoke up before having sex? Or, should you save getting lifted for after you get off? Is it better to use an edible? What about a topical? As it currently stands, you might be best with going with your gut on this one. 
Does Cannabis Increase Sexual Arousal?
Marijuana has various effects on a person's sexual wellness, according to multiple sources. The nonprofit advocacy group The Society of Cannabis Clinicians lists a series of benefits and risks that come with consumption. Some of the pros and cons raised include: 
Pros and Cons of Consuming Cannabis before Sex:
Enhanced emotional bonding and release inhibition 

Increased risk-taking 

Enhanced touch sensation 

Improved sexual function 

Increases and decreases in libido and sexual frequency, depending on dosage

Drying of mucus membranes in the mouth and vagina  

Increased orgasms 
Such effects are highlighted by the nonprofit and other groups, including lab researchers and everyday consumers. While each person experiences different outcomes, lab studies over the years now provide a better insight into such a wide-ranging and crucial issue in most adult lives.
Current Research on Cannabis and Sex
One of the most commonly cited positive results comes from a 2017 Stanford University study. It revealed that regular consumers averaged 20% more sex than those not consuming.
"Marijuana use is independently associated with increased sexual frequency and does not appear to impair sexual function," noted the study's researchers, Andrew J. Sun and Michael L. Eisenberg. "A positive association between marijuana use and sexual frequency is seen in men and women across all demographic groups," concluded their report, calling for additional research. 
Aside from the scientific underpinnings, the cannabis community has produced decades of anecdotal feedback on the interactions between cannabis and sex. 
"Cannabis is a divine aphrodisiac and arousal tool. It heightens our senses, increases blood flow, and relaxes our body and mind," said Laura Eisman, co-CEO and co-founder of Her Highness, a female-centric cannabis brand, with some products geared toward a woman's sexual wellness.
"When I'm high, I notice my thoughts and feelings more, same with my body. All senses are elevated," stated Eisman's co-founder Allison Krongard. She seemed personally convinced without needing to see any lab studies. "I've performed a 30-year study on myself with 100% conclusive results."
How Cannabis Can Affect Sex for Different Users
Those who believe cannabis improves their sex life often don't need to see the lab data to prove their personal conclusions. That said, studies through the years have revealed some possible effects marijuana has on women and men. 
Intensive care doctor Sarah Mann, MD wrote on the Society of Cannabis Clinicians' website, "Despite long-standing beliefs that cannabis impairs sexual function, recent evidence refutes these myths." As such, beliefs just a decade or so ago linked marijuana use with a decrease in male sexual function are being challenged. 
Mann pointed towards the Stanford study to support their claim and a 2016 research on the sex effects of cannabis on a person's brain structure and functions. The review of existing literature concluded that there are differences in male and female users, noting brain structure changes in areas such as attention, reward processing, coordination and sensitivity to withdrawals. The review noted literature inconsistencies and called for more research.
Additional studies in recent years shed more light on the matter. A 2019 analysis of cannabis use and women's sex functions determined that marijuana improved satisfaction for a majority of the 373 participants. "A better understanding of the role of the endocannabinoid system in women is important, because there is a paucity of literature, and it could help lead to development of treatments for female sexual dysfunction," concluded the team of researchers. 
A 2020 study of a smaller group of women noted no change, citing a need for additional dosage studies. However, another research effort that summer concluded that women who use cannabis experience increased sexual frequency and improved functions. Researchers noted that strain, consumption type and reasons for consuming did not impact the results. 
Tips for Combining Cannabis and Sex
Though the study suggests that strain and consumption methods don't matter, anecdotal feedback from scores of consumers might say otherwise. Both of Her Highness' co-founders enjoy Trainwreck. "It's a high-THC sativa that puts your head on cloud nine and melts away inhibitions," said Eisman. 
Krongard also holds Red Congolese in high regard. "I've had the experience of smoking Red Congolese at the end of a meeting in California where my boyfriend and I looked at each other and knew we needed to leave immediately," she said. "We both felt the intense body high."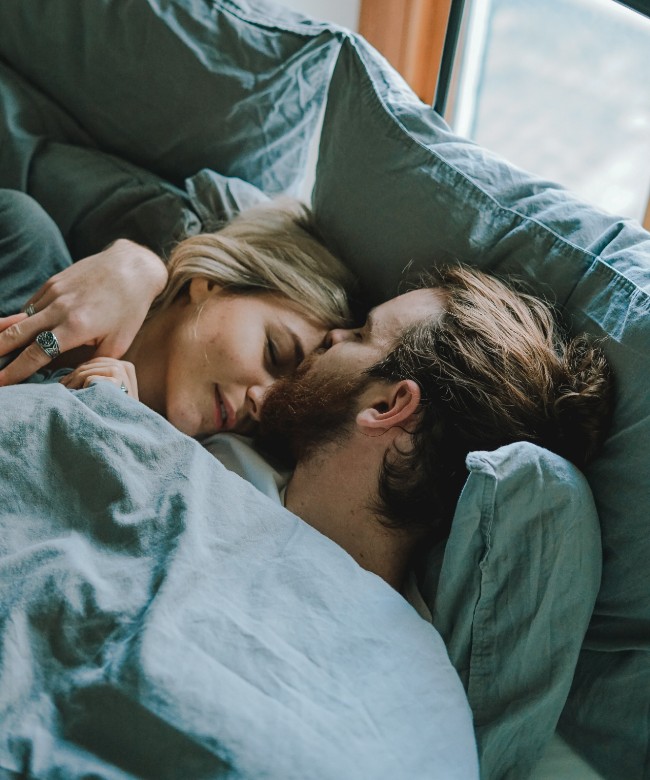 As long as all the people involved are comfortable, sex and cannabis can be a pleasurable experience.
photo credit
Keep in mind what works best for you. If you and your partner(s) feel right, go with the flow. Just be sure to check in with yourself and everyone involved from time to time. Ensure everyone feels good, is in control of themselves, and if there is anything else needed to make this experience more pleasurable for you all. 
Consumption type may not have been all that impactful in the 2020 study, but that isn't the case concerning onset times. Those seeking instant relief are more likely to benefit from smoked or vaped options. Whereas someone looking for a slow burn leading into an often intense high might be better off with an edible. Topicals are another option that doesn't involve cannabis reaching the bloodstream. Companies like Her Highness (mentioned above) make products aimed at tapping into a person's pleasure points. 
If you want to use cannabis in your sex life, follow the adage of "start low and go slow." The idea often leads to a more pleasurable and favorable experience when smoking or having sex. Be safe, practice enthusiastic consent, and have a good time.
---
Does cannabis get you in the mood? Share your thoughts and experiences in the comments below.
Photo Credit: Davids Kokainis (license)